Influencer marketing has emerged as a powerful strategy for businesses seeking to amplify their presence and establish trust within the realm of financial innovation. When it comes to the dynamic world of venture capital, aligning with influencers who are prominent thought leaders, investors, and experts can substantially elevate your brand's visibility and reputation. Here, we will introduce you to a curated list of VC influencers, each distinguished by their remarkable achievements and proactive thought leadership. If your brand is eager to harness the potential of these influential voices to drive success, a strategic communications partner can be your guiding light in navigating this terrain.
1. Garry Tan, President and CEO, Y Combinator
Garry Tan is the President and CEO of Y Combinator. He was a partner at Y Combinator from 2011 to 2015, where he built key parts of the YC experience for founders including Bookface and the Demo Day website. Garry is the co-founder of Initialized Capital and Posterous (YC S08), a blog platform acquired by Twitter, and prior to that, he was an early designer and engineering manager at Palantir (NYSE: PLTR), where he designed the company logo. Garry holds a BS in Computer Systems Engineering from Stanford.
2. Alfred Lin, Partner, Sequoia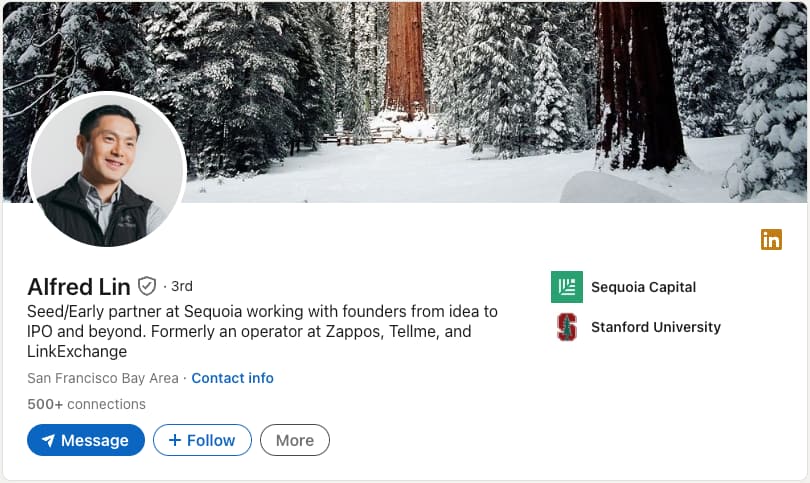 Since joining Sequoia in 2010, Alfred Lin has spearheaded some of the venture firm's most renowned investments, including DoorDash and Airbnb. Lin also holds a board seat at Citadel Securities which sold a $1.15 billion stake in its company to Sequoia and Paradigm in January 2022. Prior to joining Sequoia in 2010, Lin helped launch the online retailer Zappos with his Harvard classmate Tony Hsieh. He served as the company's COO and CFO. In July 2009, Amazon acquired Zappos.
3. Marc Andreessen, Co-Founder and General Partner, Andreessen Horowitz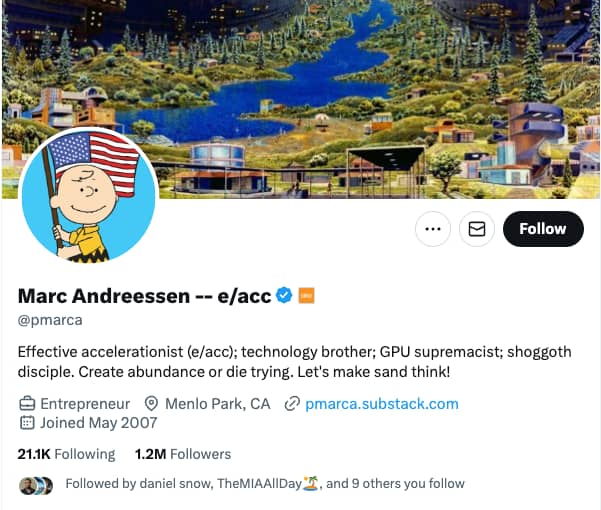 Marc Andreessen is a cofounder and general partner at the venture capital firm Andreessen Horowitz. He is an innovator and creator, one of the few to pioneer a software category used by more than a billion people and one of the few to establish multiple billion-dollar companies. Marc co-created the highly influential Mosaic internet browser and co-founded Netscape, which later sold to AOL for $4.2 billion. He also co-founded Loudcloud, which as Opsware, sold to Hewlett-Packard for $1.6 billion. He later served on the board of Hewlett-Packard from 2008 to 2018. Marc holds a BS in Computer Science from the University of Illinois at Urbana-Champaign.
Reid played an integral role in building many of today's leading consumer technology businesses, including LinkedIn and PayPal. As an investor, he has been instrumental in the success of iconic companies such as Facebook and Airbnb and has helped fast-growing startups like Aurora and Convoy get to scale. Reid joined Greylock in 2009 and focuses on early-stage investing in products that can reach hundreds of millions of participants. Reid was a board observer for Airbnb and currently serves as a board director for Aurora, Blockstream, Coda, Convoy, Entrepreneur First, Joby Aviation, Microsoft, Nauto, and a few early-stage companies still in stealth.
5. Jeff Weiner, Founding Partner, Next Play Ventures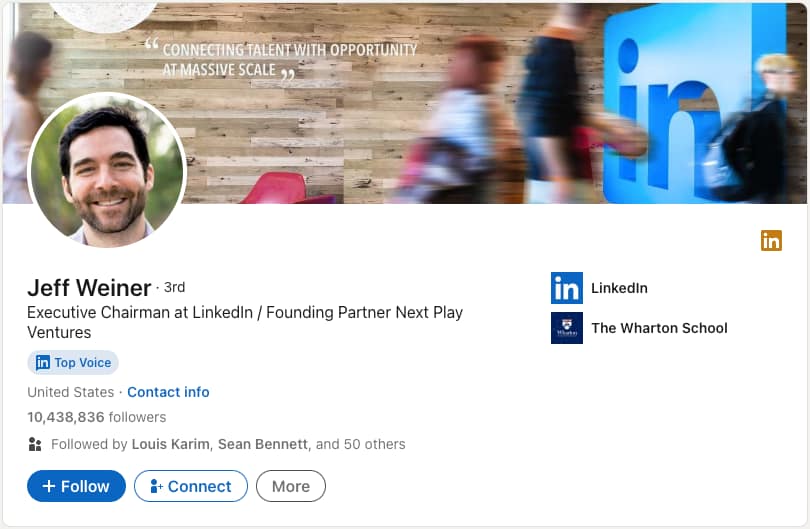 Jeff is Founding Partner of Next Play Ventures and the executive chairman of LinkedIn. Prior to becoming executive chairman in June 2020, Jeff was the CEO of LinkedIn. Currently, Jeff resides on the board of directors for Donorschoose.org and the advisory council for the Boys and Girls Clubs of the Peninsula. He also co-founded The Compassion Project, a non-profit initiative whose mission is to ensure compassion is taught in every elementary school in the US. Jeff is also a founding LP and serves on the investment committee of Concrete Rose, an early-stage investment fund investing in diverse founders, start-ups serving underserved communities and/or building diverse teams.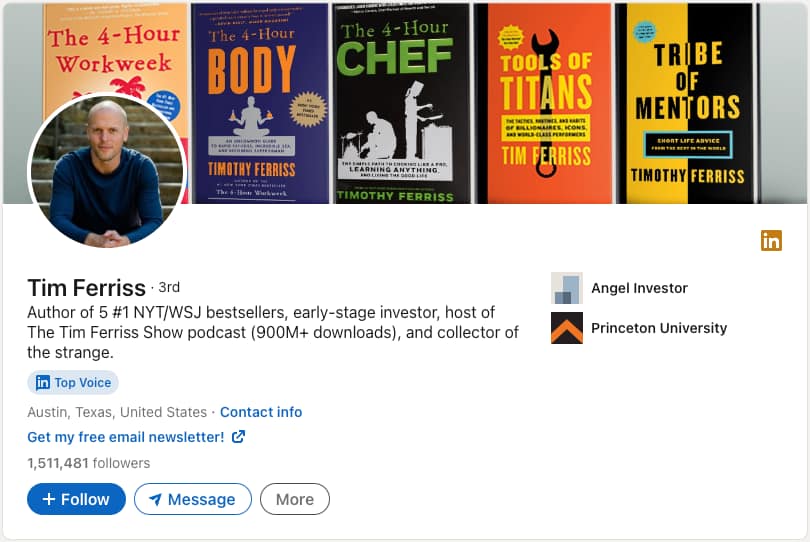 Tim Ferriss is an early-stage technology investor/advisor (Uber, Facebook, Shopify, Duolingo, Alibaba, and 50+ others) and the author of five #1 New York Times and Wall Street Journal bestsellers, including The 4-Hour Workweek and Tools of Titans: The Tactics, Routines, and Habits of Billionaires, Icons, and World-Class Performers. The Observer and other media have called Tim "the Oprah of audio" due to the influence of The Tim Ferriss Show podcast, which is the first business/interview podcast to exceed 100 million downloads. It has now exceeded 900 million downloads.
Never Miss a Chance to Get Ahead
Every leader needs a trusted team of strategic advisors as they navigate challenges in a rapidly changing world. Experience firsthand how the right team can make an impact on your brand and business performance – to request a consultation today, Contact Us.