From delectable Swedish meatballs to convenient, albeit hard-to-pronounce, flat-pack furniture, IKEA has firmly established itself as a household name in millions of households worldwide. Now, IKEA is expanding into a new market: office furniture. How are they doing this, you might ask? This month, I got a taste of IKEA's new marketing strategy at REViVE Tech Asia – a technology conference and exhibition bringing together the most influential minds in tech to innovation epicenter Hong Kong.
Table of Contents
A Dazzling Venue at ICC
REViVE Tech Asia was hosted on the 100th observatory floor of the ICC (International Commerce Centre), which is the 13th tallest building in the world. The venue set the stage for an event dedicated to innovation and the future of tech. The breathtaking views from the ICC and the tech-focused atmosphere created an exciting backdrop for the discussions ahead.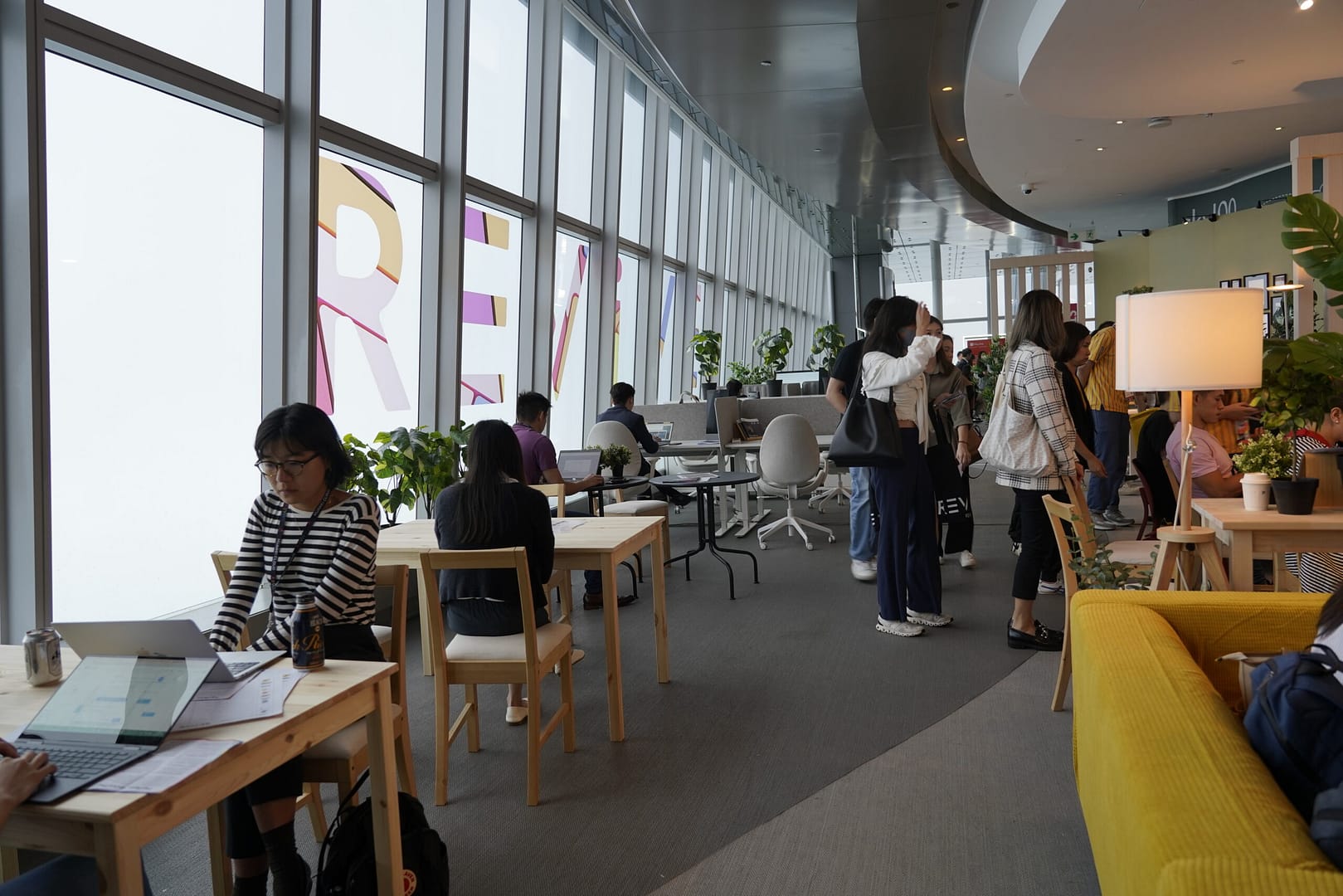 A Lineup of Tech Titans
REViVE featured some of the most influential minds in the world to celebrate innovations and the power of tech transformation in the real world. The speaker lineup included representatives from AWS, McKinsey & Company, Huawei, Lenovo, and DBS Bank, among others. It was a melting pot of expertise, where cutting-edge technology and visionary ideas converged.
IKEA's Foray into Business Furniture
While IKEA has earned a strong reputation in the home furniture industry, they have been working on a business-first line for years, focusing on space optimization and materials more suitable for the demands of businesses. Their journey into the realm of office furniture is a logical progression, driven by a dedication to creating functional and aesthetic spaces not only in our homes but also in our workplaces.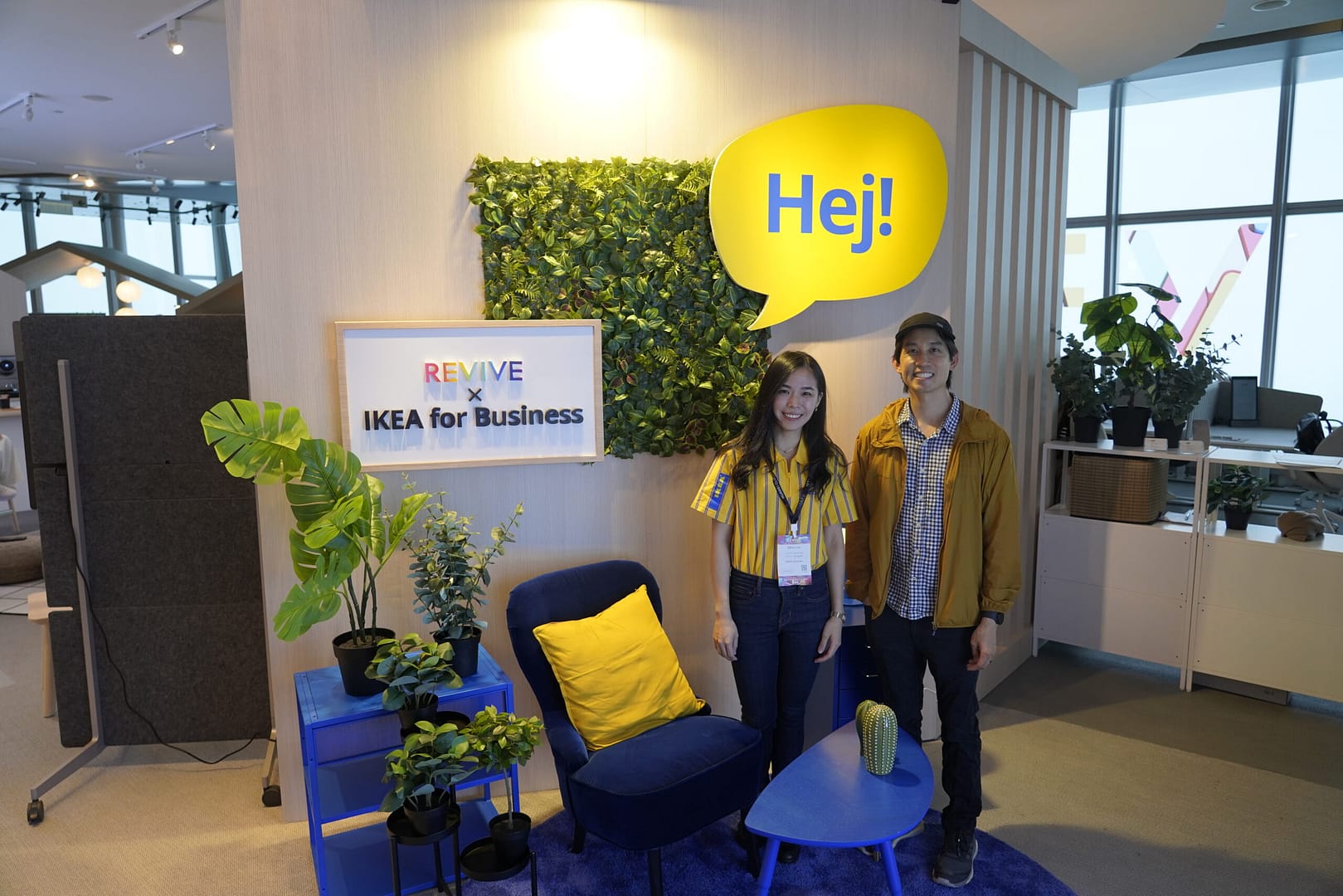 I had the opportunity to sit down with Shao-Hsuan Lou, IKEA's official for-business Interior Designer, who was the visionary behind the activation. Lou shared insights into how IKEA is positioning itself in the business furniture market. She stressed that their business-oriented designs prioritize efficient use of space, ergonomics, and sustainability, which are crucial factors for companies striving to create productive and environmentally conscious work environments.
A Conference Redefined: Design with a Purpose
Business conferences often conjure images of sterile, commercialized banquet hall chairs and furniture. However, REViVE broke this mold. The conference venue was warm and inviting, offering an atmosphere conducive to collaboration and innovation. Even the "hot desk" areas around the conference were thoughtfully designed for quick meetings and spontaneous discussions, with dividers creating cozy workstations. It was a refreshing departure from the traditional conference experience where attendees usually find themselves hunched over laptops on the floor next to an electrical outlet.
The entire conference space was a testament to IKEA's dedication to combining aesthetics with functionality, even in the corporate world. It felt like a glimpse into the future of business events, where creativity and clever design are infused into every aspect of the experience.
A New Take on Influencer Marketing – Through Event Activations and Sponsorships
What we love the most about this activation is the creative take on Influencer Marketing – where the influencer is the conference and experience itself, instead of a singular person – they've created an influential moment. IKEA's presence at REViVE is a prime example of how businesses can reinvent their marketing strategy. By being an integral part of such influential events, they've made the conference space itself an influencer, drawing attention to their innovative office furniture solutions.
In a world where remote work is still on the rise and the design of office spaces becomes increasingly crucial, IKEA's pivot into business furniture couldn't be more timely. Their commitment to blending form and function has the potential to revolutionize how we approach office design and the comfort of the working environment.
As we move into this new era of work, IKEA's entry into the business furniture market promises to make the workspace more inspiring, efficient, and sustainable. Whether it's reimagining your office layout or elevating the comfort of your employees, it seems that IKEA is ready to take on the challenges and opportunities of the modern workplace. So, if you're looking to transform your office into a space that's not only productive but also enjoyable, it might be time to pay a visit to your favorite Swedish furniture store – IKEA.
Never Miss a Chance to Get Ahead
Every leader needs a trusted team of strategic advisors as they navigate challenges in a rapidly changing world. Experience firsthand how the right team can make an impact on your brand and business performance – to request a consultation today, Contact Us.