For businesses looking to expand their reach in the climate-tech space, the importance of attending (and participating in) events like COP 28 cannot be overstated. These gatherings provide a unique platform for innovators to showcase their solutions, connect with potential partners, and contribute to the global effort to combat climate change. As we prepare for COP 28 in Dubai and other notable events like Verge, Climate Week NYC, and many more, let's explore which gatherings are essential for brands at the forefront of climate technology.
Every year, world leaders converge in one location to discuss, negotiate, and at times plead the best ways to combat climate change and its consequences. The 2023 edition, COP28, will take place from November 30 to December 12 in Dubai. Government diplomats take center stage at the two-week gathering, however, the event typically draws between 30,000 to 40,000 attendees, which provides an incredible platform for innovators to share their work and mission with others in what is known as the Green Zone. The Green Zone is open to NGOs, and the public and private sectors, featuring curated content and programming of panels, roundtables, exhibitions, and networking opportunities.
Source: United Nations Climate Change
Hosted by GreenBiz, Verge describes itself as "the leading climate tech event accelerating solutions to the most pressing challenges of our time." Verge 23 takes place October 24-26 in San Jose, spotlighting opportunities and leaders around six key domains — Buildings, Carbon, Energy, Foot, Startups and Transport. Verge prides itself on intimacy, curating its program to create connections with potential partners, customers and allies.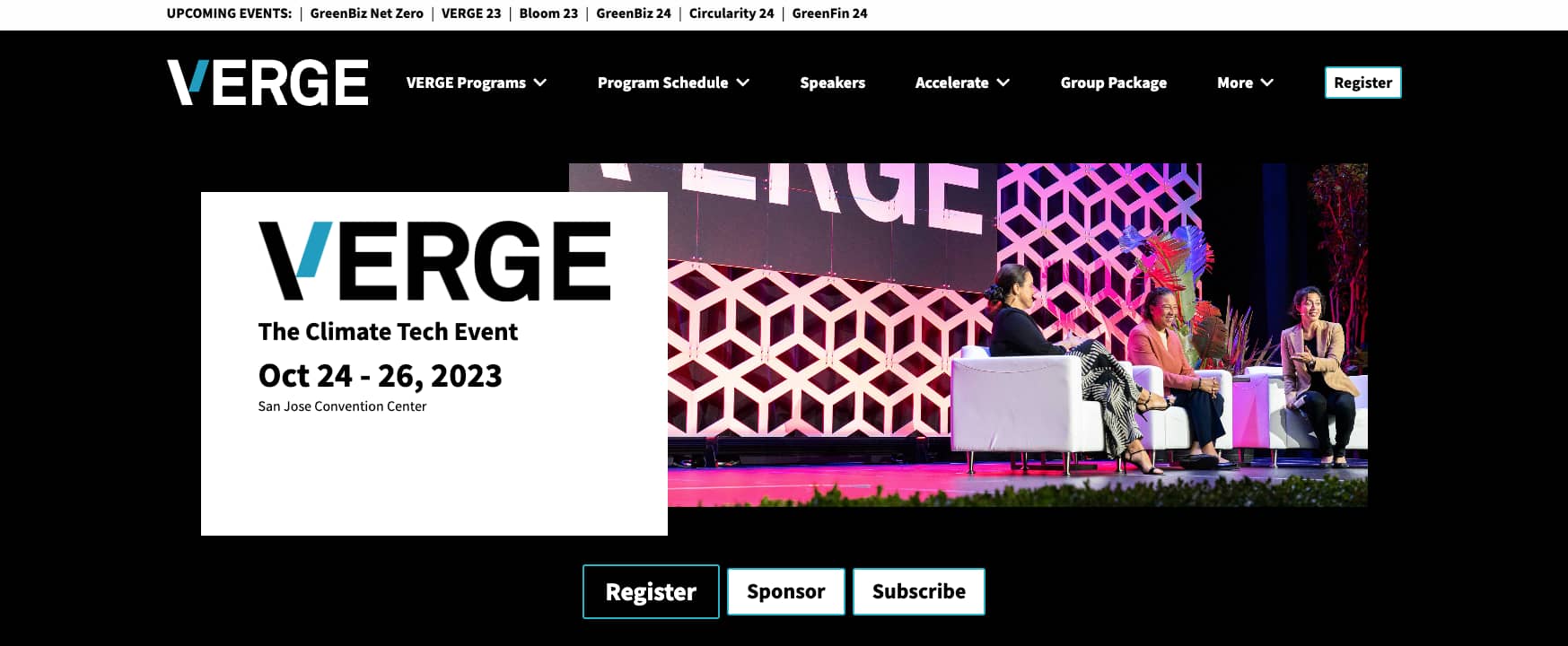 Source: GreenBiz
Annually in New York during late September, the Climate Group organizes a series of events convening business, government and social leaders to showcase global climate action. About 400 events run over the week, scattered across New York white the UN General Assembly convenes. Climate Week NYC aims to share the positive momentum occurring in the space, which often means organizations unveil major announcements on their sustainability initiatives.
Source: Climate Weekly NYC
Founded in 2005, the Aspen Ideas Festival differentiates itself from other events on this list through its incredible atmosphere and inquisitive program.Aspen Ideas: Climate hosts leaders whose ideas and actions are critical to addressing and mitigating climate change. With tickets open to the public and NBC as the official media partner, the festival captivates a large, curious audience and provides a variety of moments to engage with speakers and other attendees, through workshops, roundtables and tech expos.

Source: Aspen Ideas
A successful energy transition from relying extensively on oil and coal to clean energy is vital to saving the planet from the effects of climate change. The BNEF Summit, which launched in 2008, connects energy and finance experts to ultimately produce tangible strategies to help mature the transition.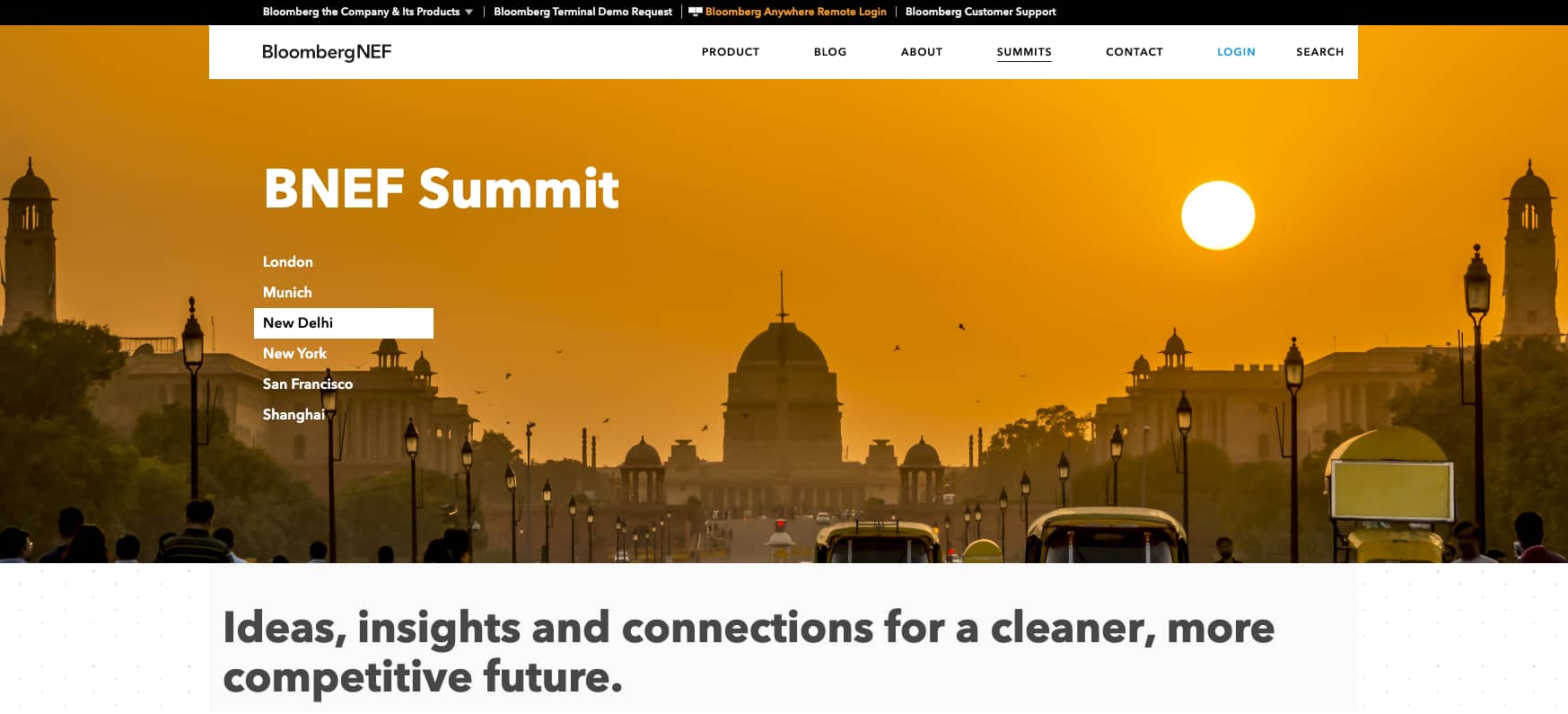 Source: BloombergNEF
The energy sector is the largest emitter of greenhouse gasses into the atmosphere. The state of Texas is the largest energy producing state in the United States. Reuters is one of the largest news organization in the world. These factors make Reuter's Energy Transition North America Summit, hosted yearly in Houston, one of the most important events to attend for those working in climate. The event's program generally centers around technologies, innovations and business models available to deliver a decarbonized, electrified energy grid.
Source: Reuters Events
Cash rules everything around climate. The Inflation Reduction Act spurred big investments in green energy, but more is needed. GreenFin brings together leadership companies, investors, and asset owners and managers to align corporate and institutional finance with the goals of a clean and just economy.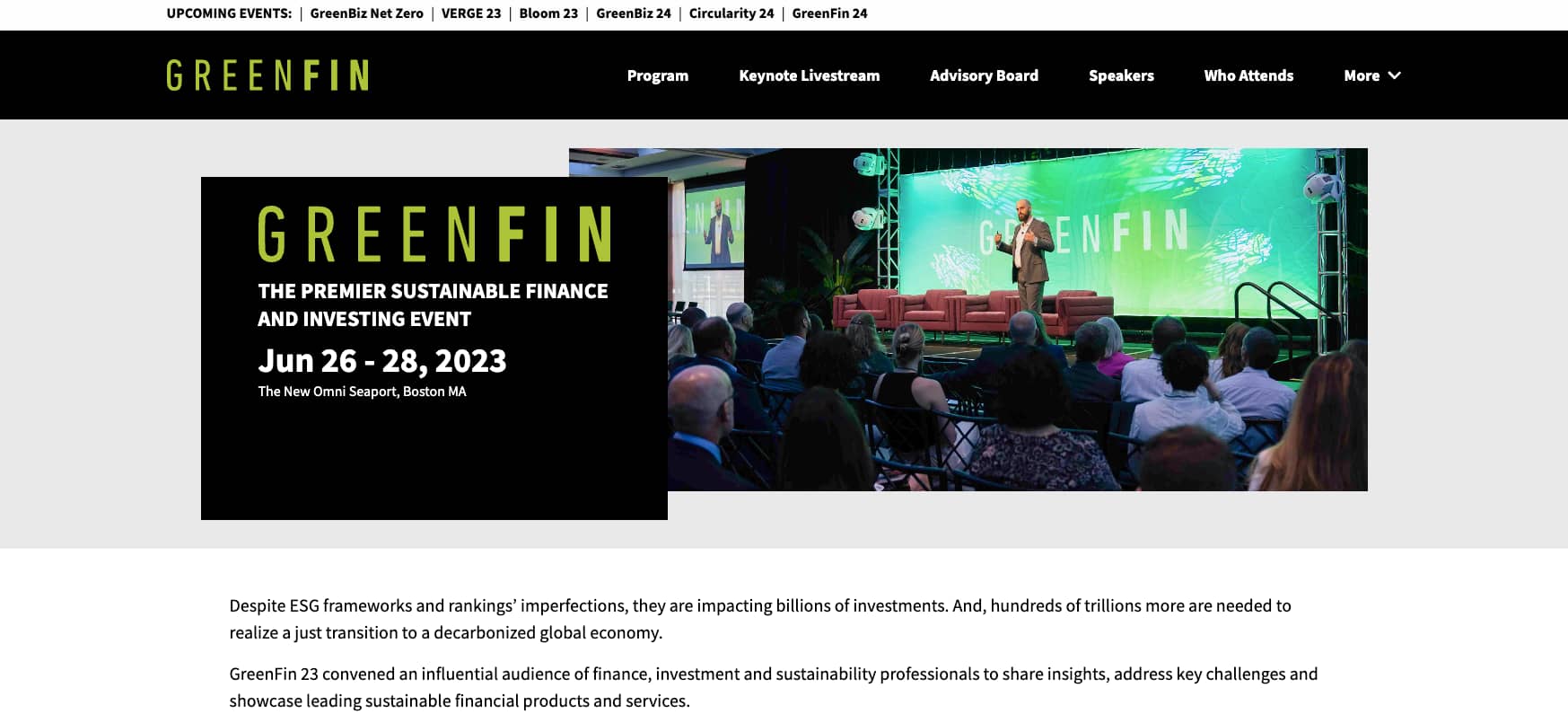 Source: GreenBiz
The newest event on this list. Beginning in 2022, MIT Technology Review's ClimateTech event overviews a similar subject matter to other events, including clean energy, clean tech investment, transportation, and more, but conversations boosted by MIT Technology Review's research and science heavy lens. Only the most innovative and credible.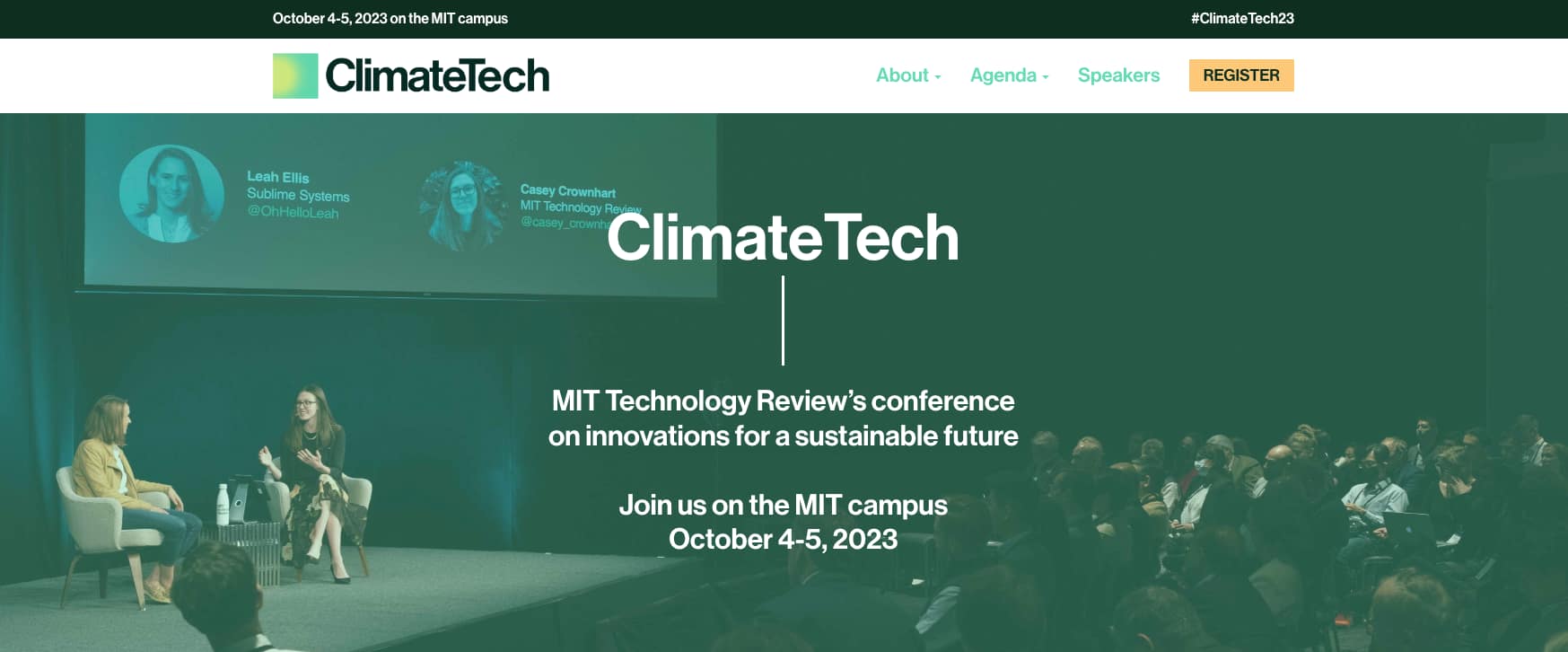 Source: Technology Review
No event captures the general public's attention quite like SXSW. 300,000 individuals flock to Austin each March to experience this one-of-a-kind festival. SXSW blends social issues with technology and pop culture like no other. Traditionally known for its film and music tracks, in recent years SXSW has cultivated a rather important platform in tech and education conversations.

Source: SXSW
One of two GreenBiz events that are must attends for leaders in the climate sector. Circularity is all about regeneration. Each conversation, each activation is focused on creating a circular economy to build a just, resilient world that operates within planetary boundaries. Hosted in rotating cities each Spring, Circularity sets the vision for a rapidly growing economy.

Source: GreenBiz
For climate tech brands, these events like COP 28 in Dubai, Verge, Climate Week NYC, and others listed here are prime opportunities to demonstrate their thought leadership and expand their reach to new audiences. These gatherings provide a crucial platform for innovators to share their expertise, connect with potential partners, and make a meaningful contribution to the global fight against climate change.
Never Miss a Chance to Get Ahead
Every leader needs a trusted team of strategic advisors as they navigate challenges in a rapidly changing world. Experience firsthand how the right team can make an impact on your brand and business performance – to request a consultation today, Contact Us.